Over the past few days, Kanye has become a street rat that everyone cries out for. Adidas and brands from all walks of life have made solemn statements to sever any cooperative relationship with Kan Ya.

Where will Kanye and his Yeezy go for a while has become the hottest topic of the day.




Just today, Kanye showed up at the Skechers (Skechers) headquarters without an invitation, but was immediately escorted out of the building.

At the same time, Skecher immediately issued a statement: Skecher did not consider or intend to cooperate with Kanye. We condemn his recent divisive remarks and do not tolerate anti-Semitism or any other form of hate speech. Once again, Kanye came to the Skechers office without notice or invitation.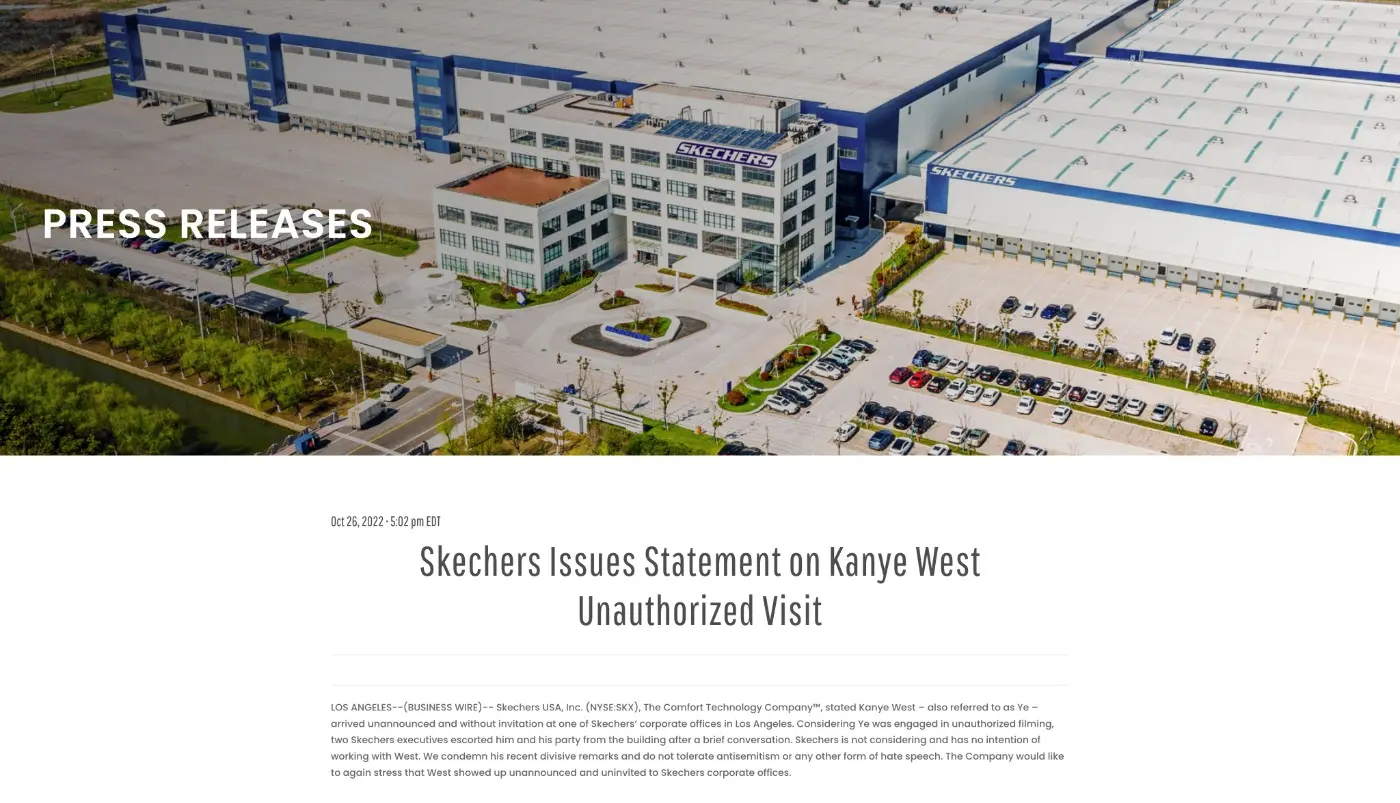 After this wave of operations, what do you think of Kanye's current situation?

Kanye had just left her forefoot, and Skecher immediately issued a statement. This is absolutely necessary to leave the relationship clean…




Meanwhile, Kanye once again updated her social media and posted a post with Quinn Emanuel Urquhart& Sullivan Law Firm Screenshot of the chat.




As can be seen, the lawyer team pointed out that Kan Ya can immediately start designing new footwear, clothing, and accessories; as for GAP, the competition agreement will expire on December 15, 2022, and Kanye owns Yeezy's name and all trademarks associated with Yeezy.

In a nutshell, the general meaning is that you can continue to design adidas Yeezy shoes, but it's impossible to use the previous name and technology such as Primeknit and Boost.




Previously, adidas also officially mentioned in a statement that adidas is the sole owner of all related designs, whether it is the previous color scheme or the new color scheme created during the collaboration.

If the previous shoe models continue to be introduced, then the shoe name is probably the same as the previous copy of the Kobe series, such as Crazy 1.




I believe the current state of affairs has surpassed Kanye's expectations.

We will continue to pay attention to where the future will go and bring follow-up reports as soon as possible.
238371
0
0
cookie-check
Kanye shows up at Skechers! Skechers immediately stated: Please leave!!!